About the Area
Durham Information
The City of Medicine
Durham, the youngest of the Triangle's three key cities, was originally called "the flower of the Carolinas" in 1700 by explorer John Lawson, because of its beginnings as a small farming community. Today, that flower has blossomed into the fourth largest city in North Carolina.
Business
Durham is now known as the City of Medicine because of its strong identity with the Duke University Medical School and Hospital. In fact, Durham is synonymous with the word medicine, as it is nationally recognized for its five hospitals and first-class medical teaching facilities. One in four residents work in a health-related field, while over 300 medical/health care practices comprise the city's leading industry.
Places to Live
Reasonable cost-of-living makes Durham a great place to live. Options range from upscale loft-style apartments in downtown Durham to horse farms in the countryside. You will find neighborhoods in sparkling new communities, as well as in charming historic sections. Homes vary in price from entry-level to luxurious executive homes. In Northern Durham you will find acres of country style living, miles of outdoor recreation, with lots of room to breathe and stretch. Southern Durham is the fastest growing suburban district in Durham. This area has close proximity to Research Triangle Park, Streets at Southpoint Mall, and Chapel Hill.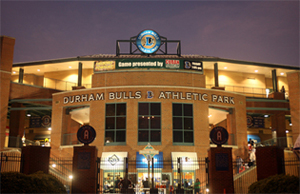 Places to go
Discover the heart of Durham, with historic districts, and Duke University. During the day the highly acclaimed North Carolina Museum of Life and Science, with its hands-on displays, will intrigue young and old alike. Hiking the nature trails along the Eno River is a favorite pastime, as well as soaking up the beauty of the Sarah P. Duke Gardens.
Evening entertainment will find you enjoying a live performance at Duke University or the Carolina Theatre in downtown Durham. You will savor the finest restaurants that delight in accommodating the most discriminating tastes.
When in comes to sports, Durham residents are fanatics. This is the home of ACC basketball, where the Demon Deacons take on the Carolina Tar Heels or NC State's Wolfpack. When that happens, the Triangle rocks. If it's baseball you prefer, the Durham Bulls entertain by the droves in their incredible new stadium.
Durham has plenty of options awaiting you. With a dynamic business environment along with a superior quality of life, the City of Medicine stands as being one of the best places to live in our country. Come visit and see for yourself why Durham may be just the right place to relocate.