6 Reasons Why New Parents in Wake County Sell and Buy New Homes

Here are the top reasons people give for selling and buying a new home after becoming first-time parents:

1. "Our home is too small." A new baby usually means a need for another bedroom or more room for all the stuff that comes with a growing family. This includes cribs, pack in plays, strollers, high chairs and TOYS! That little baby is small but their needs are not. You may decide to sell and buy a bigger home because you just need more room. Another reason people move into a larger home is because of North Carolina law. Specifically, North Carolina law states that brothers and sisters have to stop sharing rooms at the age of 7.
2. "Our house was right, and now it is totally wrong." Before children came into your life, that town home, high rise condo or house on the beautiful golf course lot was perfect for you. Now, with baby, it's not. You quickly realize that your house is not going to work for your family. You need a safe backyard where you can have a play-set as well as room to run and kick a ball without worrying about being hit by a golf ball. The town home will be replaced soon with a detached single family home with a nice backyard. Oh and let's not forget the grandparents will want to visit more often so a guest room and a bonus room for indoor play will be on your dream list too.
3. "Our floor plan is not right for children." A few nights of climbing stairs for middle-of-the-night feedings or one virus that has your precious child struggling to breathe and you will realize how far away the first floor master suite is from the children's rooms upstairs and you will wish you were closer. Many mothers have told me they slept on the floor next to the crib when their baby was sick and were so happy when they bought a new home with all the bedrooms on the same level.
As great as the baby monitor machines are to allow you to hear everything in the baby's room, it does not help when you are waking up in a dead sleep to climb a flight of stairs. First floor masters are just hard to maneuver with babies and little children. And of course, once they start crawling, safety around stairs is the next concern.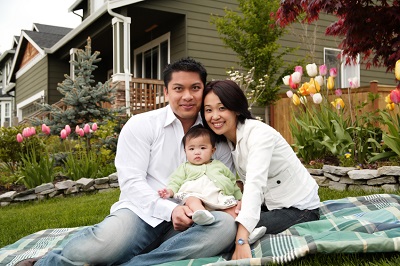 4. "Our neighborhood does not lend itself to playing with other children." Perhaps you live now in the county where the lots are an acre or more and walking or riding a bike to go play can be dangerous. At the very least, it's certainly not convenient for developing social skills as a newer neighborhood with smaller lots. In those kinds of neighborhoods, your child can just look out the window to see who is playing. And most have a community pool and playground to help your child have fun and make new friends.
5. "Education is very important to my child's future." Before you became a parent, schools didn't matter so much. But now giving your kids the best start in life is top priority. Neighborhoods in the best school districts are in high demand, which causes the homes in those areas to be more expensive. Many parents decide to sell and buy new homes in their desired school district even if it means they have to sacrifice some of the upgrades and features to secure a better future for their children. Once you become a parent, schools become more important than the size of a house.
6. "This commute time is killing me." When you bought your current house, all you calculated was how long it would take to get to work and back home again. Perhaps you listened to books on CD's as you drove or got pumped up with your favorite tunes. Commute time was decompression time. Now that you are a parent, you have added a minimum of two more stops in your daily commute. You are driving to day care for drop off and pick up by a certain time or you will pay big expensive penalties. And you are driving to after school activities too. See how commute time is something to consider if you plan a family? One other thing to consider on commute time is when you're at work and you get the call that you have a sick child. You will not want to be far away from your child or your child's doctor. Commute time is one of the key reasons people sell as their family grows.
Here to Help You With Your Wake County Real Estate Needs Through All of Life's Transitions
To learn more about how to plan your future housing needs around your growing family, contact Linda Craft & TEAM Realtors for a free consultation. We have helped more than 6,000 families buy the right home and would love to share our expertise with you and your friends.
If you know of anyone who has a child or is planning a family, please help them by sharing this information.
Thanks and congratulations in advance on your new baby boy or girl.